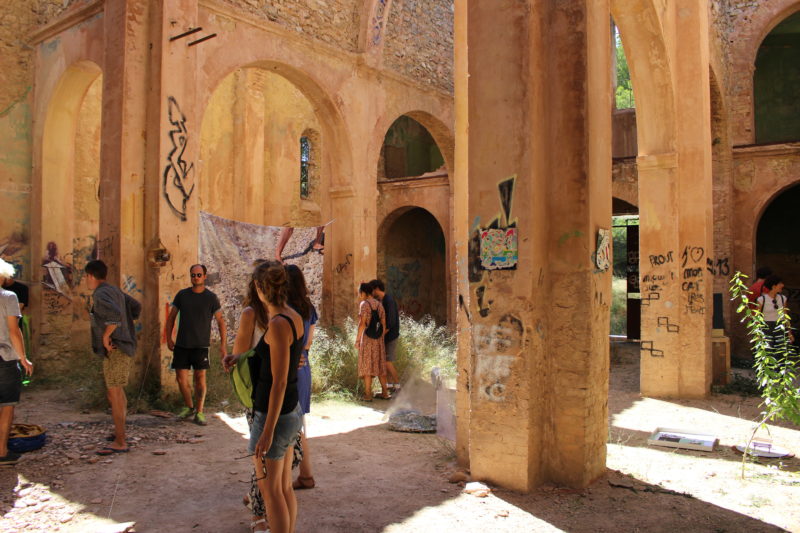 Un Anglais à Marseille #9
Rubrique Arts , le vendredi 28 Août 2020
Prof d'anglais et coursier à vélo à Marseille, Rory Launder livre son regard sur la ville tout en vous donnant une occasion de réviser votre anglais. Dans ce nouvel épisode, il part à la rencontre du Collective, un collectif d'artistes qui s'empare de lieux inoccupés de la cité phocéenne pour y montrer le travail de plasticiens sous forme de happenings éphémères… et bien plus encore. Rendez-vous dimanche rue de la République pour en (sa)voir plus !
Leaving Madrague behind us we cross the border between the extremities of the city and les Calanques. There's a water point to fill up bottles, buses parked on the right, the last tobacconist before Cassis. Instantly the road is cooler, all is green to the left, something smells fresh and sweet (so rare in the city) and with the traffic dying down the sounds of cygales resonate – it's still summer.
Legs are well warmed-up now climbing through Saména, the Mediterranean is visible from a height –darker than viewed from Malmousque, small crumpled waves flatten out towards the horizon. A bunker complex looms on the right. A sun-bleached outcrop with little vegetation, the abandoned facility flat-roofed and blocky bears graffiti on all sides.
Occupied for the day by Le Collective – a ramshackle confection of Marseille-based artists plus friends and colleagues from Paris, Bruxelles etc – the works of thirty artists are displayed. A group-show outside of the city, free for all. By mid-afternoon over one-hundred and fifty people have passed by to see sculptures, installations, paintings and performances.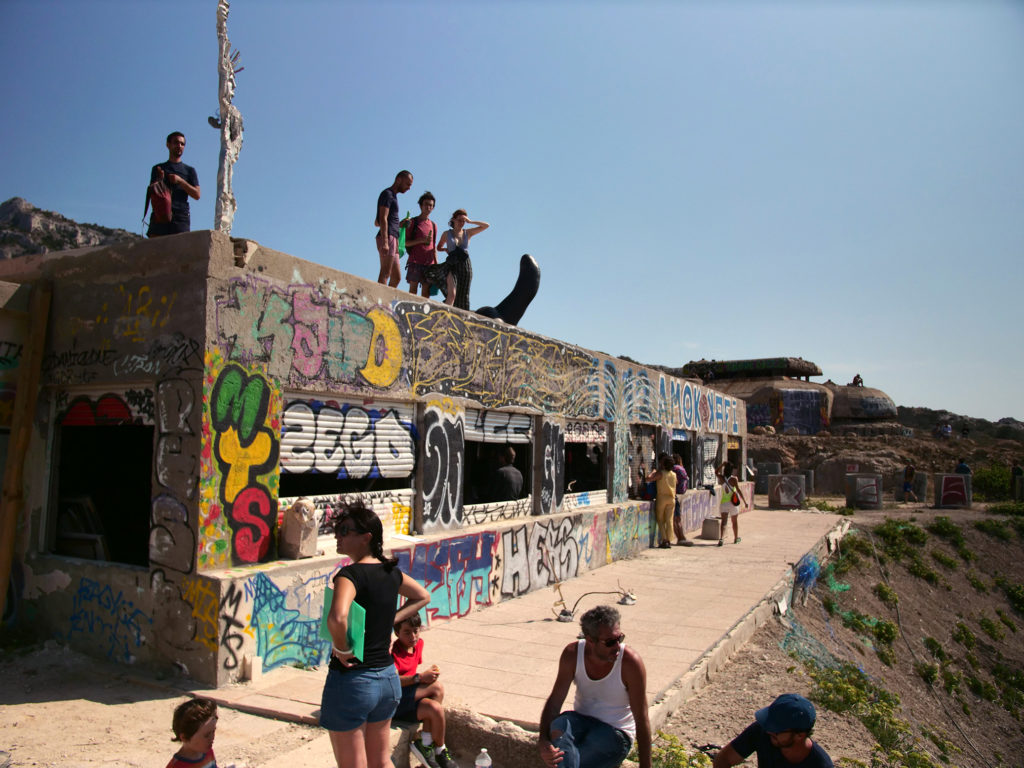 Le Collective takes inspiration from the places they find and inhabit. The first edition was in the derelict dilapidated Église Notre Dame de la Salette. "We found written in Latin in the church 'quis ut deus' who is like God? A perfect name for the exhibition."
This year, two Marseille-based members of Le Collective will organise an event in the same spirit. I meet the two principals at Place Lorette. Shambling along in Marseille artist chic – loud baggy buttoned-up shirts, frayed shorts and scuffed black sneakers covered in paint and plaster. They're grinning. It's a Sunday afternoon, three weeks until the exhibition. We'll do the visit and the interview then take a canette in the calm of this tucked-away triangular spot a stone's throw from the Vielle Charité.
"We want to create a festive 'happening'. To occupy a space, unused or without proprietor. And give life to this place for twenty-four hours. An exhibition, a group-show, but more than that – it's to occupy and use spaces that have for one reason or another been neglected.
"We are curious about the architecture in a city, about the freedom to roam. A simple stroll in nature is rewarding. But as in nature why not also in a building site? A kind of urban exploration. Often for us it's to find materials, or purely just to walk in the city.
"If we wait for the Town Hall to invite us to organise these kind of events, we'll do nothing. So we prefer to organise them ourselves, for us, between us. The paradox is that often the institutions and people well-placed in the arts love these kind of pop-up, homemade, ephemeral, borderline-punk events.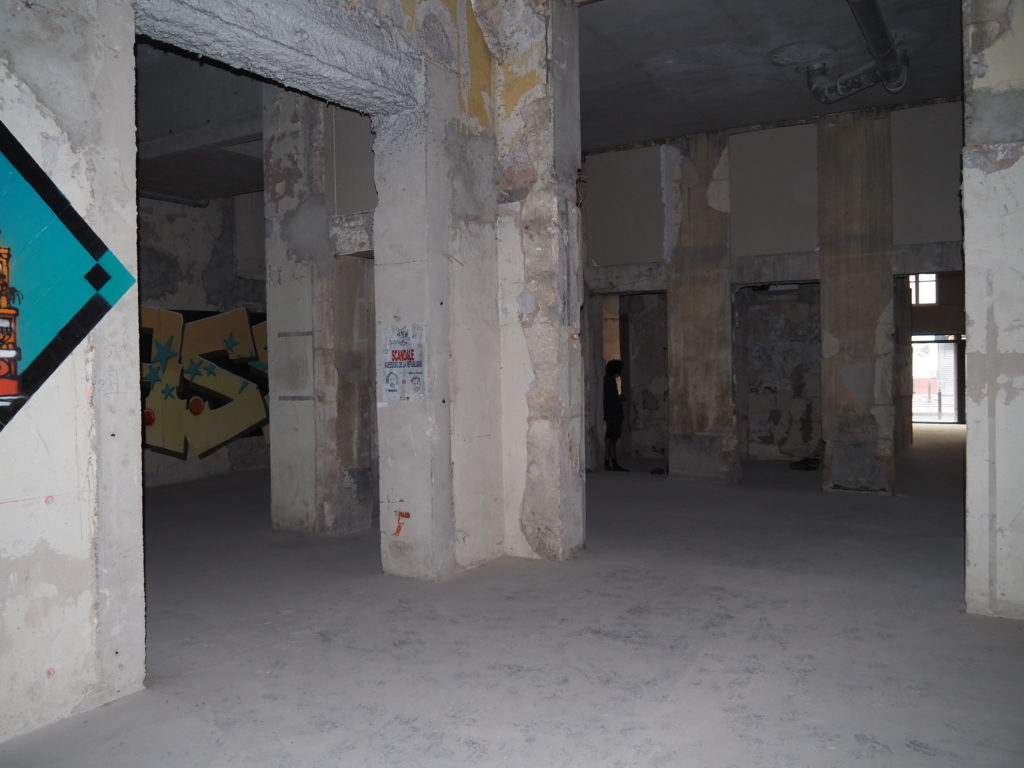 "There's a guy we met around here who sleeps and lives in an electricity box." In place of a house number or name on his door it is written 'Danger of death'. "He's a painter/decorator, currently unemployed who's been living there for nine months now. We met a few times, chatted, and on explaining our projects, he introduced us to the building."
The building is cool and dark, but not damp. It's spacious with high ceilings. Two prominent well-lit entrances, and one smaller (less well-lit). It's completely empty, the walls have been stripped back raw to the concrete, no electricity cables, nothing.
"It's a long time we have empty buildings in Marseille. Even in the heart of the city. Especially in the heart of the city. We have experience in organising these sorts of projects, and when it's done well, when it's serious, people could easily imagine that it's an official event. The clandestine nature of these events stimulates and nourishes the artists involved, and for the public who visit . . . the act of entering the space . . . that gives something.
"When we reflect on the two previous events, it's only beautiful memories. It was a mission! An almost military-style organisation, but once it started to work, when the work was installed, and people started to come, the work, the interactions . . . the time dilates, there's another temporality . . . we're proud.
"Twenty-one artists will exhibit this year. Certain will work in the space, others will bring works to exhibit, or perform live. The visitors – like the artists – will experience this 'happening' together: the perambulation of the people, the opening of the space, the conversations, and the activation of this space that is not being used."
Rory Launder
Les belles idées naissent en République – rue Potemkine : le 30/08 de 12h à 20h au 59 rue de la République (2e). Rens. https://www.facebook.com/events/336514290820706/
Avec Stessie Audras, Valerie Bourdel, Rémi Bragard, Gillian Brett, Antoine Carbonne, Victor Daamouche, Marc Étienne, Société étrange, Juliette Guérin, Mayo Irion, Jean-Baptiste Janisset, Mahalia Kohnke-Jehl, Antoine Nessi, Paul Paillet, Caroline Schattling Villeval, Alan Schmalz, Southway Studio, Lorraine Thomas, Victor Yudaev, Christof Yvoré.