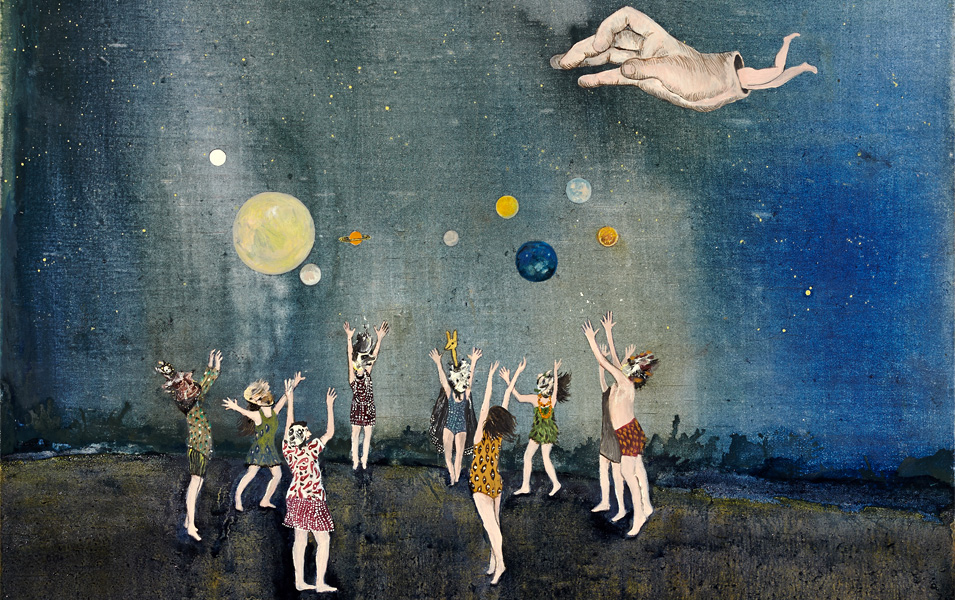 Sous nos pieds de Karine Rougier (huile sur bois, 30x30cm, 2016)
Un Anglais à Marseille
Prof d'anglais et coursier à vélo à Marseille, Rory Launder livre son regard sur la ville tout en vous donnant une occasion de réviser votre anglais toutes les deux semaines.
Difficult and destabilising days, a new and distressing Marseille malaise. Walls go up, walls come down. Helicopters churn, punctuated with the random thwacks of telescopic batons, dastardly politicians dare to blame the rain. The shock, the disbelief, the anger, the mourning . . . the disconnect.
But like Jase said in Infamy "a lot does grow in the dark".
Metaphore Collectif lied, they said it was over, for here at least. The already legendary was about to become mythical, but they survived. And continue to grow in their old home and in new. The Sundays – oh those Sundays – are back as well.
12,900m2 made a mistake when choosing their name, 13 is the number we embrace. And they lied too! But their 60m2 are full. Full of projects that should be better attended. Exhibitions, label nights, screenings of vintage football matches, an antidote for Sunday laziness, an after-nap drink, tentative djs, tentative people.
The vernissage circuit is quietly up and running for 2019. Come mix, stare in horror at what art students find suitable for clothing (recently noted: a disturbing preponderance of a ghastly acid green) take a plastic cup of nasty wine (also acid) maybe some olives, and mingle. Galerie du Tableau, Vidéochroniques, HLM, open studios at La Friche… Karine Rougier Autour de Nous will vernissage Saturday the 23rd of March at Fotokino.
Also 'autour de nous' Les Filles de Blédards are connecting peoples and cities, Brussels, Paris, and soon Marseille.  "The festival IDENTIFIÉ.E.S ? is an invitation to recreate our own collective imagery, creative and recreative, and to break free together from the one-sided realities, put forward some new languages, to reach out to a diverse audience, convey an inclusive, progressive, transgressive message […] a true convocation to blur the lines of our strong and proud identities, whose ways are to be found at the crossroad of this great transformation that is the acceptance of the Other and the Multiple. ALL TOGETHER BUT ALL DIFFERENT." 29th and 30th of March, St. Ouen (Paris).
We need to reconnect with our city. When was the last time you carried a couple of seize up to the Bonne Mère as an offering for that massive shiny golden baby? The Panier is almost tourist-free, it's yours. And Sujiton is a sun-trap, you can swim already.
La Plaine is a monument to blind, unlistening governance, but we're not listening either, a group of fifty or so cyclists recently made one-hundred laps of the wall, cheered on by another hundred or so supporters, there'll be another one in June. The Pirate Punx are still making pizza. Carnival is most certainly not dead. The wall itself has become a living gallery, go paint, go paste, just don't get upset if you're painted over within days. Go back and paint some more.
It's crisp in the mornings, but it's fun to be constantly pulling on and peeling off layers. You'll soon be complaining about the heat. Enjoy these milder mornings, walk the markets, rub a kiwi between your thumb and forefinger, the big steps are being re-painted. And in the evenings, walk the expos, if the canette is too cold wear gloves, if your friend has forgotten theirs you can share, one glove each.
Jump in the water, it's cold but nothing will happen, you won't get sick if you're pumped up on kiwis. In many ways this is the best time of the year, after everything that has happened in Marseille these last months, we all need to reconnect. Marseille can't do it on its own.
Rory Launder