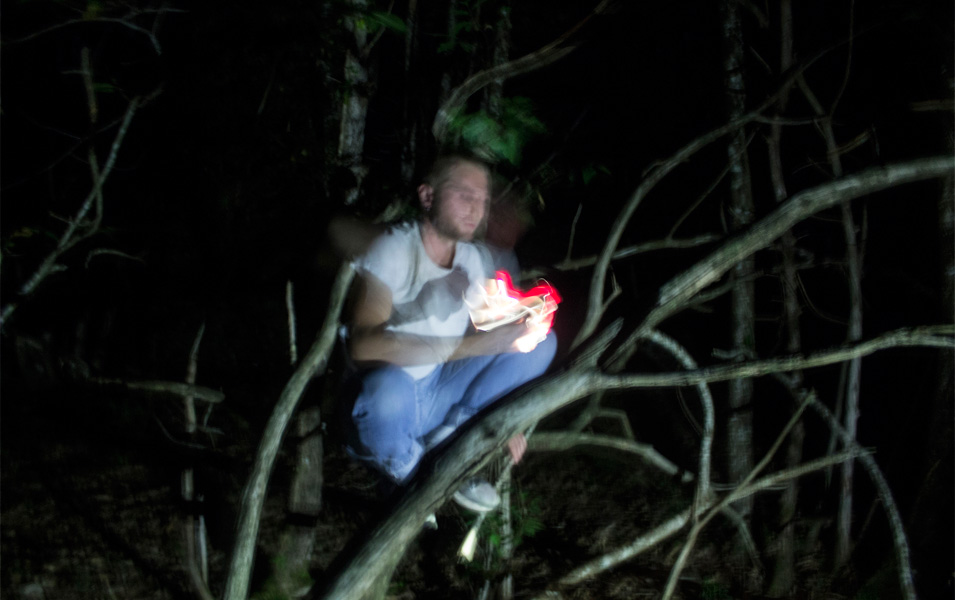 Aurélien Potier
Un Anglais à Marseille #6
Prof d'anglais et coursier à vélo à Marseille, Rory Launder livre son regard sur la ville tout en vous donnant une occasion de réviser votre anglais toutes les deux semaines. Dans ce sixième épisode, il évoque le mini-festival proposé par Manifesto XXI et La Zone à Voiture 14…
Shooting up rue des Héros around la Rotonde and up towards the corner with Flégier, it's calm outside. A calm which dissipates instantly on entering Voiture 14, there's ladders, paint, sound-checks. Cables, suitcases, and junk amassed in a huge pile. Myriam Mokdes in yellow, is listening hurriedly yet attentively before nodding and going for her phone, not really having time to reply to her interlocutor. She swivels, she calls. She doesn't have to wait long for the next question.
Filles de Blédards are in the process of installing themselves for the weekend. The Friday culminating in fireworks being set off inside a tent in the street. The Saturday with Lala &ce, a roadblock at le Talus. Her charisma "yeah next year we're taking over" brazenly indifferent with boys, and on occasion shy with girls, is mesmerising. The show in Paris surprised me, being completely ignorant of the scene I was surprised by how much I liked it. Lala has grown in six months, and her performance with it, less guarded, less burdened. We danced we yelled, they were climbing fences to catch a glimpse.
We're on standby as volunteers, but there's very little for us to do. All will be ready by seven o'clock. I get to do a quick run to pick up a projector from Cours Lieutaud, which makes me feel useful, and like I contributed something. In a moment of intimacy Myriam asks a friend if her hair is ok and if she should change, there is a resounding "You look great" satisfied she goes back to work.
Manifesto XXI and La Zone will run a festival of their own at Voiture 14: first, second, and third of November. I meet Sarah Diep — Manifesto XXI's vice-editor in chief — on boulevard Longchamp next to her office. I'm failing to collect my thoughts with a coffee, she's in search of biscuits.
"Manifesto XXI was founded by three women in 2014. The idea is to create a new vision of online journalism, quality long-form articles, giving voice to marginalised groups, sharing information, raising awareness.
"French media is overly centralised on Paris. They don't cover or even realise what is happening outside. For example La Plaine, or the rue d'Aubagne, there was barely any coverage on a national level, it's the same with culture. Marseille is still seen (by some) as a second-rate city. We want to do something here to demonstrate and to give exposure to (on a national level) the richness of the emerging culture in Marseille."
When pushed about macho and hard-right attitudes in Marseille "That was not the idea. Fighting against the so-called dark sides of Marseille, that's not the point of this event. I'm not sure Marseille is worse than Paris or other big cities . . . we want to give a positive national spotlight on emerging artists, artists that deserve to be shown."
"Marseille is different, many people come here for different reasons: rent is cheaper, we have more space, often people have a kind of 'freelancer schedule', you can meet in the afternoons . . . and it's this availability of people and time that allows things to be nurtured into life.
"But there are new questions too. No one cared about Marseille, and now it's becoming this new 'hype' thing, is that good or bad? This is what we want to examine in collaboration with La Zone. We don't want Marseille to become and follow this standardised gentrification model. We want to use this new attractiveness in a positive way to build something."
Marseille as European Capital of Culture 2013 was heavily criticised. The hard gentrification of the rue de la République has been a failure. The resistant nature of Marseille that not only one H&M, but two, closed down, is something of which we can all be proud. It's a rare sort of city that can refuse H&M. "But these failures are giving space for independent projects. A new generation of artists are coming, culture is becoming a hot topic. But many people are happy about how the Vieux Port has been renovated, so it's mixed. There is this huge underfunded independent scene, and on the other side these large institutions, both looking at each other." It's true that (just as an example) PAC OFF wouldn't exist without PAC.
We become lost in the paradoxes of gentrification. The positives of what I term 'soft' or 'first wave' gentrification. Embobineuse was once the only place in the Belle du Mai visited by those who live on the right side of the tracks. After came La Friche. The clear negatives of 'hard' or 'second wave' gentrification with its forced evictions, H&Ms, and the dispersion of local inhabitants being priced out of areas where they had lived for generations. One could argue the real first wave is neglect. The Belle du Mai was once a prosperous Italian Quarter. Those that could afford to have moved away. Now it's described as one of the poorest districts in Europe.
I find Lisa Birgand — co-founder of La Zone with Agathe Mattei — tucked away on a quiet little terrace on the wrong side of the tracks. For the second time in as many days I'm offered biscuits. "La Zone is a numeric journal published online creating an alternative map of Marseille seen through the eyes of a combination of artists, social scientists, and local people. For each edition La Zone focusses on one district, one artist, one theme and one regard. The theme is chosen in relation to the work of the artist. The first issue looking at La Plaine, with visual artist Charlotte Smidt, with 'La Nuit' as the theme, and with the regard of the local inhabitants."
Again we become lost in the ambiguous, and often absurd inconsistencies of Marseille, (and of our own positions on the subject). Do working-class people really want a place where they can have their beard trimmed professionally? (I don't.) Would they perhaps not rather have a shiny new shopping centre with lights, cameras, a bit of job creation, and underground parking? (Again, I don't.)
Voiture 14, Saturday the 2nd of November at 17.00, Nicholas Mémain and Jean-Laurent Cassely will present a discussion entitled 'Marseille fantasme?' A moment of reflexion on the reality of this "Eldorado of creative classes and young artists (or not)" combining sociological, urbanistic, and artistic perspectives. If you've lived in Marseille for longer than a day, come. You will almost certainly have something to contribute.
Rory Launder
Marseille fantasme, Marseille capitale d'un nouveau Sud ? : du 1er au 3/11 à Voiture 14 (14 rue des Héros, 1er).