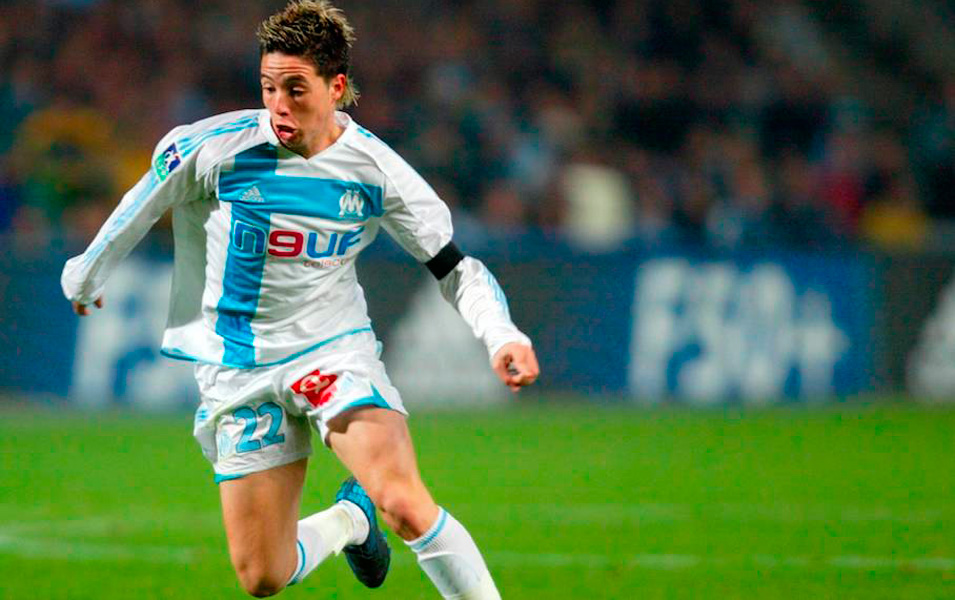 Samir Nasri
Un Anglais à Marseille #2
Prof d'anglais et coursier à vélo à Marseille, Rory Launder livre son regard sur la ville tout en vous donnant une occasion de réviser votre anglais toutes les deux semaines. Pour ce nouvel épisode, il raconte sa rencontre avec la cité phocéenne.
On (presumably) a wet afternoon in Bristol 2003 the excruciatingly handsome Jérôme floats the idea of a trip to Marseille. This guy is so rakishly sexy mere mention of his name wrings hot flushes from the English girls of my acquaintance at the time. "Ahh! Jérôme!" they would sing in unison, in over-the-top French accents, rolling their Rs, and squirming comfortably in their seats.
Flights were booked, and the word was put out that if anyone wanted to join they were welcome. A combination of – money issues, not wanting to hang out with me too much, and a fear of foreigners in their natural environment – meant only Jon Carter (a man so English he could be considered a liability abroad) was the only person to get it together to accompany us.
There was genuine trepidation. Every Englishman knows three things about Marseille: it's dangerous, dirty, and sunny.
Our hosts were mesmerising. Kelly taller and fairer, blue-green, warmly condescending eyes, mid-Summer freckles bursting across cheeks and shoulders. Sabrina smaller and stronger, and though from Avignon, swelling with Southern entitlement, happy in the South. Undeniably beautiful – but it wasn't that – they were just class. They didn't judge or ignore us, they were so easy in their skin. They seemed to work more from feelings, English girls more from lists. They were a few years older than us, and became these untouchable goddesses, French, but from another planet. I guess it's how the girls back home saw Jérôme.
Incredibly, fortuitously, rue Curiol was to be our home. What a delight to at first be afraid of, and then within five days start saying hello to and becoming fond of these huge transvestite prostitutes. And why was every other car a Twingo? Sometimes you could count four in a row. Impossible to find one without a dent in the bodywork. We tried. Impossible.
The mornings were spent being laughed at by waiters as we tried to speak French and order café crème. Strawberry Pagos were the real revelation, so red so sweet, in snazzy green glass bottles, we didn't have these in England. The afternoons around La Plaine, at the Petit Nice even then famous for cheap drinks and young women, in fairness I was their age at the time, it's also why we prefer Maraîchers today.
L'Olympique de Marseille were playing Toulouse Saturday afternoon. Last year's replica OM jerseys were bought for 10€ a piece at the market of La Plaine. Mine blue long-sleeve, Jon's white short-sleeve, 'neuf' was the sponsor if you're interested. They don't sell them anymore; they don't sell anything today.
This was a match of football like we had never seen before. We had been advised to go in the Jean Bouin as it was safer. The sights and sounds of the stands behind the goals were enthralling, there was this call and response between the North and South, with each clearly divided into groups of ultras. I was happy where we were and the older Arabic guy smoking hash next to us seemed happy with his spot too. Lorik Cana wore the armband, chest puffed-out, barking orders. An eighteen year-old Samir made an appearance from the bench around '70 looking very assured, toes twinkling.
Separated from our friends, our only means of communication was to leave Post-It notes on the door of rue Curiol sporadically over the afternoon. This was the old days. We had mobile phones, but they didn't work in a country as far away as France.
And so to the beach, Sabrina strips her t-shirt to reveal a complete lack of bikini top, the flip-flops are off and her too, across the rocks to jump – swearing and laughing – into the water. Freeze-frame, Jon and I turn to look at each other, idyllic, gormless, slack-jawed smiles draped across our faces, this kind of thing just doesn't happen in St. Andrew's park.
Sunday afternoon was spent watching the locals play football from the terrace of Le 31, five a-side, using overflowing bins as goals. I remember sitting there thinking, it's not so bad here, nothing scary had happened, the bins were overflowing (they still are) but: I could live here.
Our last night was spent in the Champs de Mars, to this day a perfect spot for Monday night live music refreshment. I didn't know anyone in Marseille at that time, but standing smoking outside on the corner today, it feels like if you stay there long enough, you will see everyone you know. After being humiliated at table-football I got chatting with these two guys at the bar, talking England, France, Bristol, Marseille . . . my drinking companion (name unknown) with an intake of breath, head slightly to the right, bottom lip pushed out, squinting in the left eye, a half wink, turns knowingly and gives me that perfect bittersweet complementary description of our city "The thing you have to remember about Marseille is: it's not exactly France".
Rory Launder