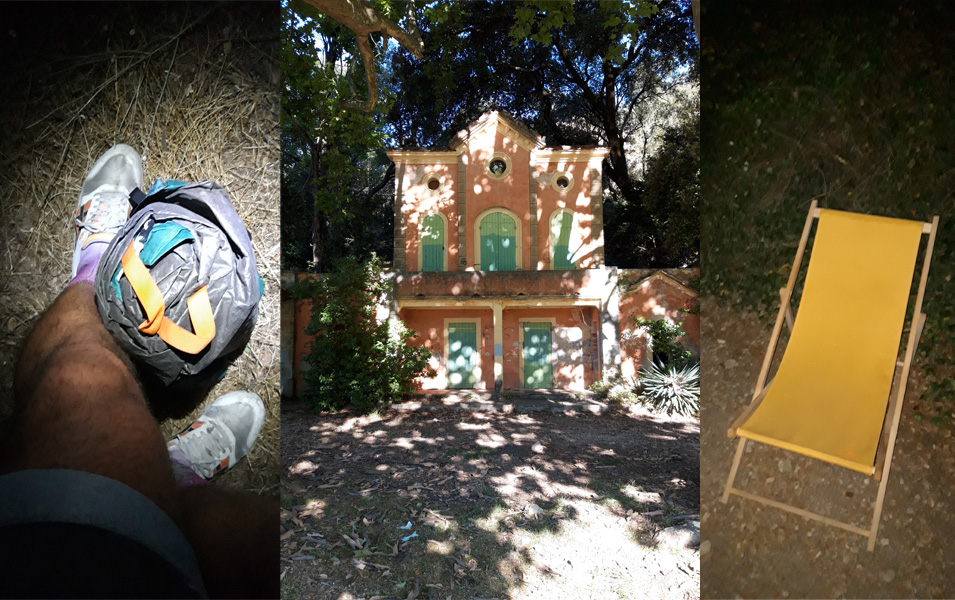 At the Encore Encore festival in 2021 © Rory Launder
Un Anglais à Marseille #13
Rubrique Musique , le vendredi 08 Juil 2022 dans Ventilo n° 467
Encore Encore festival
Prof d'anglais et coursier à vélo à Marseille, Rory Launder livre son regard sur la ville tout en vous donnant une occasion de réviser votre anglais. Dans ce nouvel épisode, il raconte son expérience au festival Encore Encore l'an passé, alors que la manifestation, imaginée par Harold Boué alias Abstraxion, pointure électro marseillaise, avec le Laboratoire des Possibles, entame sa nouvelle edition aujourd'hui en affichant complet.
Trundling along with a visibility of no more than five metres, we're starting to get cold. Illuminated only by stars (we can see the mist of the Milky Way) and some cheap bicycle lights from Décathlon, the tiny curving ups and downs of the country lane between Bras and Correns is otherwise pitch black. We're crawling along, unable to warm up by cycling faster.
We re-join a more major road with some habitation. There are at least white markings on the sides of the road, and the occasional passing car lights up the gorge. Rocky outcrops looming, dense vegetation, the sound of the river from our right.
Our planned arrival at Encore Encore festival at around 8pm has been hindered by a juicy three-hour delay to departure. It's now half past ten, we're knackered, have nothing to eat, and with 80km (plus a little thirty-minute detour when my usually faultless map-reading went awry) in the legs we're gagging for a beer. Along the route we'd been warned on numerous occations that there are no shops open in the evenings, nor are we likely to find a bar open. I could feel that sinking feeling: sweaty, grotty, no shower, no booze, no water, no cakes. Just put your tent up and go to sleep, dreaming of a café being open early tomorrow morning.
Then, the gurgling sploshing of a fountain, and what's that? A hubbub! Human voices. Someone laughing! "There is a pub" we cry. While parking our bikes with glee, one of the locals turns "Ooh la-la vous êtes perdus là". "Non non, on avait tout trouvé, on est bien là."
"Could I have two pints please? Bruno what would you like? May I ask at what time you close?" It was like that scene from Withnail and I "Right we've got two hours, let's get to work".
Having sated the 80k in traditional fashion, we busied ourselves with impressing the locals with tales of our adventures by bike from Marseille. Bruno elaborating on my navigational mishap, and me pointing to his still being in a bar an hour after we were supposed to leave. Les Villageois seemed pleased we had made it, and appeared to be genuinely looking forward to the festival.
On arrival at Encore Encore we found the bar open, volunteers milling around, and a heartening welcome. Two of the principal organisers Anne and Léo showed us the site, locked up the bikes, and advised us where to camp. There are two hundred baby bats installed in a building adjacent to the campsite – no screaming, shouting, cackling, and definitely no boombox. I'm delighted to report the keep-the-baby-bats-alive-no-noise policy was observed to the letter all weekend.
I sleep badly and am up at seven in search of coffee. I like festivals, and tents, but I don't like festival toilets or cold showers. So you can imagine my delight when sneaking around the festival site while everyone is asleep I find a shower block. It's clean, and the water runs hot.
The centre-piece of Encore Encore is a mixed 7-a-side football tournament. With Moesha 13 providing the music. I take a walk out across the football pitch. Coloured flags decorate the goals. Real grass. I take deep breaths up through my nostrils, and gently pull on the crossbar, imagining glory. I do the same at both ends. I'm alone, but I can see the French bastards with their fast-paced technical football. I haven't played for ten years, and have opted to play in goal (if a team will have me). I can visualise glory, I fantasise about saving penalties. However, I've never really played in goal, so there is an underlying fear that this will all end very quickly and in embarrassment, or injury, or both.
Before the first match I treat myself to a 'massage audio tactile' like they used to do at DATA. Placed in a hammock, eyes covered with a blindfold: you float. Two or maybe even three masseurs twist the hammock, tracing lines the length of your body with their fingers, tapping on your legs and feet: relax the body. Waves of experimental music (produced live) stimulate the senses.
I've brought my football kit with me. Red England shirt from 2006 (Lennon 19 on the back for those who are interested in that kind of thing), the black denim shorts I will be wearing all weekend, and red socks. I've got a blue sun-bleached Ricard baseball cap, and fingerless cycling gloves. I feel a bit silly with the gloves on, so I take them off leave them in the bag. I notice there's a girl in a black top, red shorts, and black socks. That makes me happy. Maybe we'll end up playing on the same team (we do, and to great effect).
In football – as with everything in life – if you can just get off to a good start, and not fuck it up in the first five minutes, the rest will probably go ok. We play the Greens. (We are in blue.) Playing in goal I discover is not unlike being in a state of permanent panic. Every time the Greens have the ball all I can think is "oh shit, oh shit, oh shit" followed by "don't mess it up, don't mess it up, don't mess it up". When we have the ball, all I can think "please, please, please score, that way if I mess it up it won't be so bad". The match ends 0-0. I do a couple of good saves, my distribution on the counter is excellent, I even go on a rampage down the right but the pass was too heavy / I was too slow to get on to the overlap to cross.
And we continue in similar fashion. Lucy solid at left back, Rémy impeccable at centre back, Marion getting forward from right back, Sébastian a superb target man in central midfield (think Peter Crouch mixed with Marouane Fellaini), Morgane incisive as a wide forward on the right, and a bloke my age from Tchikébé up front on his own running himself into the ground for the team.
We won our second match, and our third, and our forth, and our fifth 1-0, 2-0, 3-0, 4-0. My ego was exploding, we had not yet conceded a single goal. A second foray down the right on the counter, interchanging with Morgane, overloads the defence, and I score a tap in. In reality (and at the time) I was honest enough to say I was too slow to touch it over the line into the empty net, and it would have to go down as an own goal. But with hindsight I'm claiming it.
We're in the final.
News comes through that there are prizes for the winners that include free beer, the pressure is on. Penalty shoot-out glory as imagined alone in the crisp morning air, introducing myself to the frames of the goals, is ten minutes away (plus extra time). It's the Greens who have finished second in the league and will meet us in the final.
The Greens are the organisers of this festival. They play together every Monday. One of the girls on their team has Zizou scrawled on the back of her shirt in pen and is playing on despite a table-spoon sized lump protruding from her forehead. The result of a collision in a pile-on after she scored a delicate left-foot into the side-netting in the previous match.
We had several good chances in the first half, but our intrepid lone striker is blasting high and wide. Poor bugger doesn't have the strength left to control his shots. In the second half it's mostly one-way traffic. I'm doing well, an instinctive reaction save one-on-one to tip over the bar, struck with such force that I have to climb over a low wall and into the brambles to retrieve the ball. Diving saves to left and right mean I'm bleeding from both knees. But my distribution is awful. I'm shattered and panicked. Hoofing clear into touch. The Greens are relentless. (I think they might have even had subs.)
The referee's whistle blows and it's extra time. Long story short: a mix-up between myself and Lucy on the left hand side, and the Greens are in. I feel the ball whizzing between my elbow and body as I'm too slow to get down to block on my left. Flat on my back the sun beating down, it's over. The whistle blows moments later. But there's elation. Rémy is smiling, we did brilliantly.
Hat's off to the Greens. They organised the festival and the tournament. And as they were all volunteers anyway had no need of free beers, so they gave their prizes to us. La classe. You can call me paternalistic or patronising if you like but for a 'Tournoi de Foot Mixte' to involve five girls in the final (with several all-male teams being eliminated) must be seen as a success.
The Saturday night finished with a back-to-back-to-back special and when Nookie's 'Give A Little Love' comes in it all gets a bit "Pick up your feet: the smile on your face". We spend the Sunday eating and blinking in the sunlight of Le Petit Corrensois. A soundsystem has been installed on the Place du Village. The locals are clearly delighted to see so many people, the children hanging out the windows making gun-fingers to some Jul tune or other. No one is in great shape after the night before, but the fresh air and the scenery mean smiles are quickly flying around again, the fountain gurgles on.
In the cool of the shade festivalgoers recline on the grass. Our time in Correns is coming to an end. The river water of the Argens is inviting us in. Tip-toing through the long grass of the riverbank, we slide gently into the water. Sparkling pools of light on the surface, we twist, we turn. Pinpricks of sunlight piercing the foliage, stroking, caressing, we plunge, we roll.
We squat an extra night. Lying on the floor of the campsite all is quiet. England are slowly losing the football to Italy on the radio. Bruno jumps up with a gasp! Something is moving under his roll mat. Bemused, I do nothing. From the light of a torch, we identify a huge bug. Lethargic, it looks around. Suddenly a buzzing sound and a blur of movement and it spirals off, flying up into the trees. Bizarre.
Then another. And another. Fat round insects an inch or so in length are emerging from the ground all around us. We must have seen thirty or more in total. Always the same pattern: dig yourself out of the earth, wait a bit, collect your senses, fly off into trees.
The following morning the locals explained that these were cygales (Cicadidae), and with some misty-eyed reverence explained to us that they hibernate for seven years, and that what we had experienced was rare, and rather special. This was not our last brush with nature. Correns, as any villager will proudly tell you is the first certified organic village in France. On our way back to Marseille we stopped to admire a lavender bush teeming with life, fifty or more white-winged butterflies dancing in the wind. Correns is an exceptional spot, and Encore Encore does everything it can to respect and to pay respect to this heavenly environment.
Rory Launder
Encore Encore festival will take place in Correns 8, 9, 10 Juillet 2022.